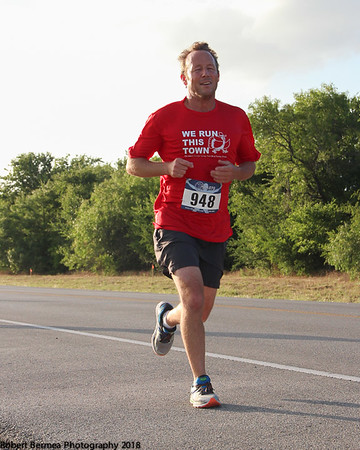 My View From The Bike
As a long time member of SMRC, I decided it was time to give back, o I volunteered to be the bike lead for this year's San Marcos Parks and Rec Firecracker 5k. The race was held on a very warm (97° at race time) Thursday evening at Five Mile Dam Park in Hays County. The course runs from the park's parking lot out to stagecoach road and then through the Blanco Vista neighborhood and back to the park.
Having never been a bike lead before, I was a bit nervous. What if those really fast looking college kids out run me while I'm on my bike?!? What if I make a wrong turn and mess everyone up? What if I fall off my bike (a very real possibility)?
My adrenaline was pumping! When I heard the signal for the start, I took off like a rocket! I looked at my speedometer and saw I was moving along at a 22 mph pace. Very Nice!
Now, I'm sure you're all familiar with running, and I'm sure you know that even the fastest runners at a local event are only hitting about 11 mph. And I'm sure you also know that a bike lead's job is to lead the runners along the course. Not possible if the bike lead is well into mile 2 before the runners hit the 800 mark.
I saw my mistake quickly and slowed my pace. I kept about 30 yards between my bike and the top 2 runners. They ran right next to each other, and right behind me, until the last 400 meters or so. And then this kid in a USA singlet turned on the jets and went for gold! I could hear his breathing as he ran up on me. I had to really crank hard to stay in front. I peeled off at the 3 mile mark and watched him sprint across the finish, with second place running in seconds behind him. What a hard fought race! The rest of the pack came in quickly behind the first two. Everyone looked hot and happy as they crossed the finish.
I had a slightly different look at a 5k from my bike. I saw the runners, from first one in to last man standing, everyone putting in hard work. I saw smiling, helpful volunteers and family and friends cheering and supporting along the way. I truly enjoyed the experience. The race was a success and I look forward to next year!
Paula Korzeniewski